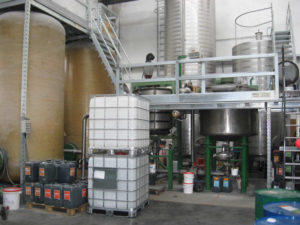 In this section of ANCORA COLLANTI website we present the products for bonding wood in general, in particular for the interior, frames, borders, veneers, chairs, etc.
These ANCORA COLLANTI adhesives generally consist of water-based adhesives, solvent neoprene adhesives and melt..
In these pages you can see ANCORA COLLANTI catalog about
:: glues for wood;
:: adhesives for wood;
:: thinners for wood;
:: catalysts for wood.
There are no articles in this category. If subcategories display on this page, they may contain articles.
Subcategories
Water-based vinyl adhesives are nothing more than adhesives based on polyvinyl acetate in aqueous dispersion for various types of bonding. They are easy to use, odorless, non-toxic and they have different characteristics to suit the various production needs.
They are normally applied on one side, with the exception of special bonding, where it is recommended that a smaller amount of product is applied to both surfaces.
The following adhesives for wood belong to the family of water-based vinyl glues:
ANCORVIL SPECIAL
ANCORVIL 52 B
ANCORVIL 52 S
ANCORVIL WHD
ANCORVIL WHD-3X
ANCORVIL NORMALE
ANCORVIL NC
ANCORVI LAK
ANCORVIL DEK
::: Neoprene solvent base contact adhesives
Neoprene or polychloroprene adhesives are characterized by higher thermal resistance and higher cohesion, therefore they are widely used in many fields such as footwear, wood, rubber, ABS, leather, iron, plastic laminates and more. Their application is made on both sides.
The following wood-based adhesives belong to the neoprene-based contact adhesive family of solvent:
ANCORPREN K3
ANCORPREN K2
ANCORPREN K23
The hot melt adhesives are solid adhesives which pass into liquid state by means of heat, and then return to cooling solids after being coated on the surfaces to be glued using special coating machines.
This adhesive family is characterized by excellent resistance to temperature, fast bonding and 100% use of the product.
The following adhesives for wood belong to the family of hot melt adhesives:
ANCORFUSION K 849 G
ANCORFUSION K 872
ANCORFUSION K 036
ANCORFUSION K 078
PREPARATORE AF
It is a powder or liquid adhesive based on the reaction between urea and formaldehyde, which is also called urea-formaldehyde adhesive (UF). The crosslinking takes place through moisture and heat, which is why the urea powder is used in hot presses.
The adhesive line you get has excellent resistance to high temperatures and humidity.
The following glues for wood belong to the urea family glues:
ANCORPRESS 117 R
ANCORPRESS 117 R E1
ANCORPRESS 122 R
Le colle poliuretaniche sono adesivi base isocianato che reagiscono con l'umidità dell'aria formando linee collanti resistenti all'acqua e alle alte temperature:
::: Thinners
Scopo primario di questa sezione è quella di proporre i solventi che consentono la pulizia delle attrezzature utilizzate dai collanti, adesivi e colle per legno ANCORA COLLANTI.
Appartengono alla famiglia dei diluenti i seguenti prodotti:
::: Catalysts
Appartengono alla famiglia dei catalizzatori relativi a colle e adesivi per legno ANCORA COLLANTI i seguenti prodotti:
INDURITORE DN
INDURITORE NC
INDURITORE CA
ADEDUR ET