ANCORA was founded in 1967 from a fusion with another company.
At that time ANCORA was manufacturing adhesives for marble vinyl and wood and also the paper industry, as well as manufacturing flexible abrasives.
Sales developed mainly in Italy.
In 1987 the firm was completely renewed, adopting a modern organization and expanding its activity to the whole of Europe and then more recently to the rest of the world.
ANCORA works mainly in these sectors: wood (bars/shop furniture, trade fair stands, windows and door fittings) tapestry (sofa, chairs for offices, mattresses, expanded polyurethanes), leather goods (sports clothing, bags) adhesives for embroidery and car stereo components.
At present the manufacturing is divided into two sections:
– the wood industry with vinyl, neoprene, melt and urea glues;
– the upholstery industry with the thermoplastic, neoprene, polyurethane solvent-based adhesives and latex water-based glues.
We pride ourselves on our flexibility and our ability to respond immediately to our customers requests, as well as providing a fast delivery.
Our technical experts pay special attention to customers' needs, providing both technical and installation assistance. They research the right product based on the requirements of the customers regarding a particular bonding.
ANCORA's way of thinking is the constant evolution in the manufacturing of adhesives, while prioritizing customer satisfaction by carefully responding to their needs.
We are able to personalize our products and tailor them to suit our customers' needs.
ANCORA COLLANTI S.r.l.: our history manufacturing adhesives
It was 1967 when Franco Fantin decided to establish PRODOTTI CHIMICI FRANCO FANTIN initially based on the production of adhesives for marble.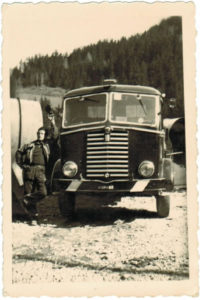 Soon he has the chance to take over a company in Schio, where they manufactured casein glue and vinyl: the company's name was ANCORA and the name hasn't changed.
The commitment was constant and began to pay off; the manufacturing expanded to include the entire range of solvent adhesives for wood, as well as the processing and transformation of sandpapers.
Than we decided to start with the manufacturing of solvent-based adhesives and water- based ones for the upholstered furniture industry.
In 1990 Franco Fantin built a new factory in Pianezze S.L. still in the Vicenza province. The company then started to take shape ,with all the members of the Fantin family working there. All the manufacturing was subsequently moved to this site and the company took its present name ANCORA SRL.
In these few lines you can identify the type of company that ANCORA is: a company with many years experience in its sector , developing products that are closer to its customers' needs.
Tradition and innovation combined with excellent results, appreciated both at a national and international level. Manufacturing adhesives!