Sanitizing gel FAS GEL PLUS to prevent Covid 19 and other infections, for hands and surfaces.
Sanitizing gel FAS GEL PLUS and surface spray FAS SPRAY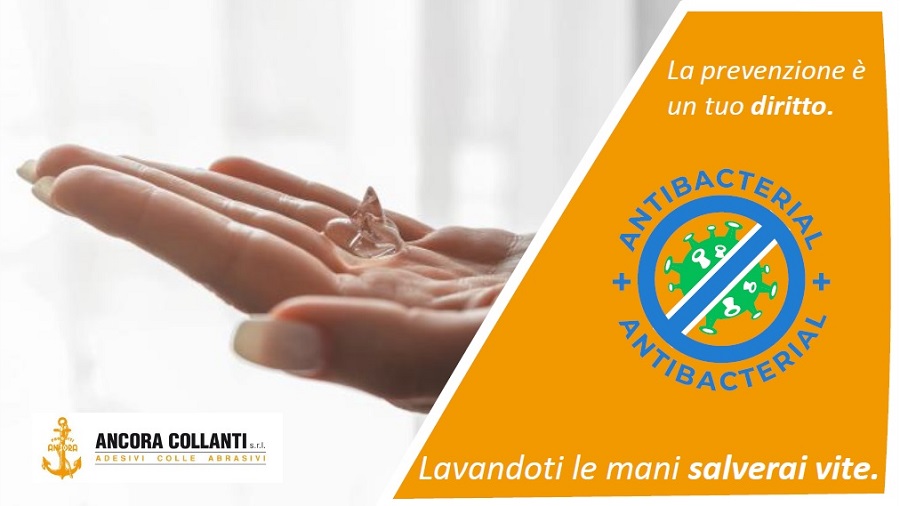 Many companies in this period, in which the coronavirus pandemic (Covid 19) changed our daily habits, started producing hand and surface sanitizing gels. So did Ancora Collanti.
This was possible by converting our production, so as to increase the availability of products that help reduce the spread of the infection.
In this way we have also tried to make our contribution and part of the production has been refocused to produce the FAS GEL PLUS hand sanitizing cleansing gel and the FAS SPRAY surface spray.
But FAS GEL PLUS sanitizing is much more than a hand gel or detergent aimed at containing contagion from Covid 19.
Main characteristics of the gel
It is a hydroalcoholic gel with neutral pH ready for use for hand cleaning and sanitation, where the use of water and soaps is not possible.
It has excellent skin tolerability even with prolonged use thanks to the presence of emollient substances such as glycerin.
It is comfortable and always ready for any environment, while moving or traveling it leaves the skin of the hands soft and fragrant.
Method of use
FAS GEL PLUS and FAS SPRAY spray are very easy to use:
Apply on the palm of the hand an amount equal to a dispensing of the dispenser, (1 8 drops) or in any case a quantity sufficient to wet both hands.
Rub your hands and fingers both internally and externally until your hands are dry.
Warning: the product is for external use only.
Click HERE to download the product presentation sheet in PDF format.